Document Scanning Services in Richmond
Our Document Scanning Services
At Richmond Document Scanning, we recognize the uniqueness of each client. When it comes to your document scanning needs, we provide personalized solutions crafted to align with your specific requirements. Rejecting one-size-fits-all approaches, we tailor each project to meet your precise specifications.
Our extensive array of document scanning services spans paper scanning, imaging, indexing, microfiche/microfilm conversion, and large-format scanning. Nestled in Richmond, our state-of-the-art facility ensures the delivery of top-notch, customized services to meet your document management needs.
Type of Documents to Scan
Richmond Document Scanning offers scanning services for various document categories, including:
Accounts payable documents
Architectural and engineering drawings
Artwork such as photographs, slides, film, and negatives
Blueprints
Business records
Credit card receipts
Government records and ledgers
Human resources documentation, including employee records
Large-format document scanning
Legal documents
Maps
Medical documents and patient information
Microfilm
X-rays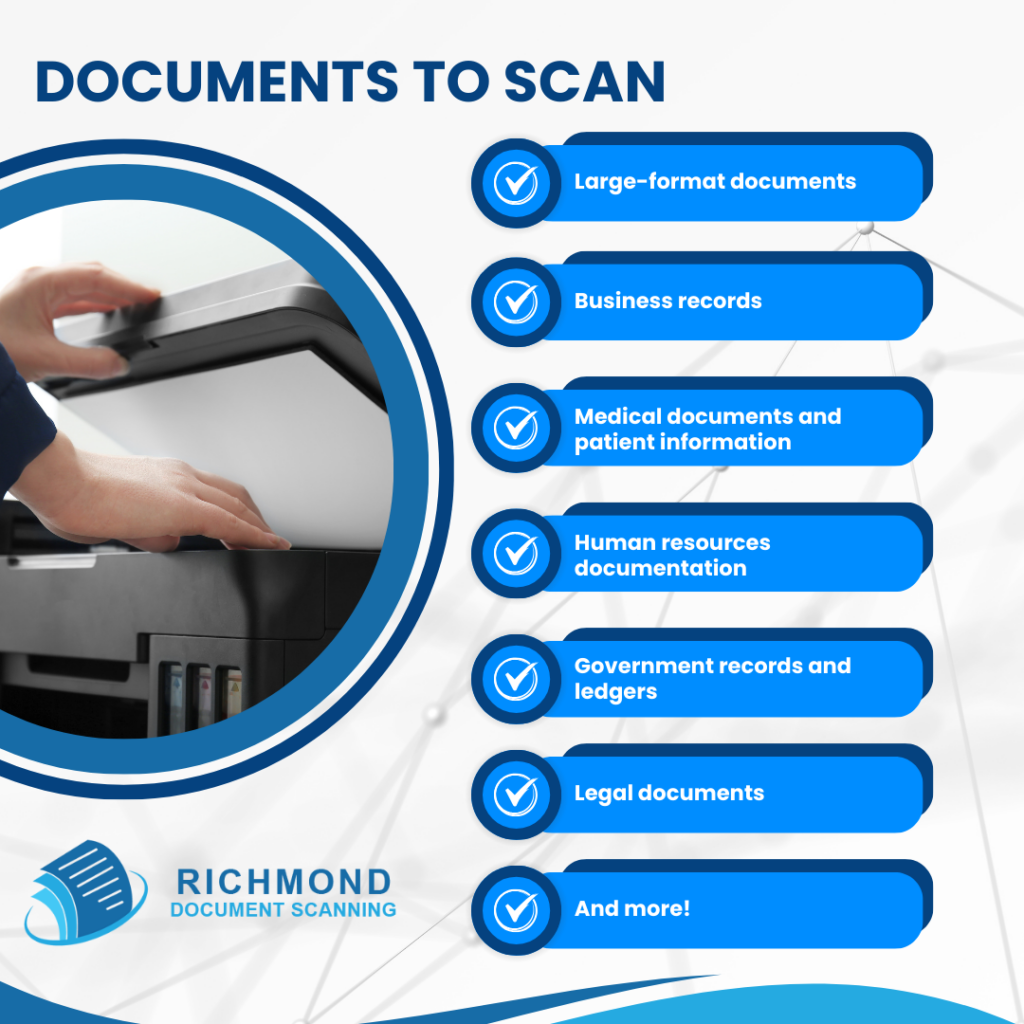 Types of Scanning Services
At the heart of our comprehensive suite of document management solutions lies an array of specialized services, ranging from precise document scanning to large-format digitization and expert microfilm conversions. Check out our service options below:
Documents
We understand that paper comes in various forms, and we have the expertise to scan any type you require. Whether it's credit card receipts or full-size architectural drawings, no job is too big or too small for us. Our services encompass optical character recognition (OCR), redaction, indexing, and more, all tailored to your unique needs.
Digitizing Micrographics: Microfilm Scanning and Microfiche Scanning
When it comes to converting microfilm into digital formats, expert care and handling are crucial. Our experienced staff has managed hundreds of millions of microfilm images, ensuring exceptional quality. High-speed film scanning equipment efficiently converts 16mm and 35mm film, with the flexibility to handle various film reduction ratios. Our local scanners are equipped with advanced image enhancement software to deliver the highest-quality electronic images. We evaluate image locations before microfiche scanning, ensuring a streamlined and efficient process.
Large Format Documents
Precision and expertise are essential when it comes to digitizing large-format documents. Our experienced team excels in managing and digitizing various large-format materials, ensuring top-notch quality. With high-speed scanning equipment, we efficiently convert architectural blueprints, maps, and posters, offering flexibility to handle different sizes. Our local scanning experts use advanced image enhancement software to deliver high-quality electronic images, ensuring a streamlined and efficient process.
Other Document Scanning Solutions & Add Ons
Finding the right document management system that fits your business model
Indexing and uploading files into a Document Management System (DMS)
Helping you convert to a paperless office
Optical character recognition (OCR) to make your files editable
Day-forward scanning, where you scan all documents starting after a certain point
Benefits of Digitizing Your Important Documents
Reduced storage expenses and office clutter. For many individuals, households, businesses and organizations, paperwork builds up fast. Getting your important documents scanned is a great way to reduce clutter in an office and save on costly expenses like storage facilities or additional space.
Easier file access for remote, hybrid and in-person teams. Our professional scanning services will help ensure that everyone on your team has quick and secure access to the documents they need, regardless of whether they're working in-person or remotely.
Increased safety and protection from theft or mismanagement. All businesses have important documents that need to be kept secure. With our document digitizing services, you can increase safety in your business and reduce the risk of critical information being misplaced or stolen.
Less overhead with office resources. Working with a document scanning company like Irvine Scanning Service will help you conserve money in your business by reducing the amount you spend on paper, ink, and other office resources.
Faster access to files when you need them. You don't want to waste time digging through paper documents, especially when something urgent comes up and you need a file or record quickly. Our digital scanning services will provide you with fast and reliable access to all of your important documents.

Get Free Quotes on Document Scanning Services In Richmond and Surrounding Areas
Richmond Document Scanning can help you find a secure scanning provider that can handle your project We're the experts in document scanning and imaging, including OCR and indexing services. We're ready to handle your sensitive records to ensure your documents are protected from conversion to storage and/or disposal.
To get free, no-obligation quotes today, fill out the form or give us a call at (804) 977-2696. Within minutes of receiving your request, we'll be in contact to help you with your project.
Frequently Asked Questions
What is document scanning?
Document scanning refers to the process of transforming physical documents into digital form. It involves utilizing a scanner or specialized equipment to capture images of paper documents and store them as electronic files.
How does document scanning work?
Document scanning operates by inserting a paper document into a scanner, which employs light or cameras to generate a digital representation of the document. The resulting image is typically saved as a digital file, often in formats such as PDF or TIFF.
Why might I require a professional for document scanning?
Professionals possess high-quality scanning equipment and expertise to ensure the accurate and efficient conversion of documents. They can handle substantial document volumes, uphold quality standards, and offer services like indexing and organization.
How secure are my documents and information during the scanning process?
Document scanning services usually prioritize security and confidentiality. They may implement encryption, access controls, and secure facilities to safeguard your documents and data throughout the scanning process. Choosing a reputable provider with robust security measures is crucial.
How much does it cost to utilize document scanning services?
The cost of professional document scanning services typically ranges from 7 to 12 cents per page scanned. Your overall expenditure for your document digitization project will vary based on multiple factors, including the quantity of documents requiring scanning, the level of preparation required, and the service location.
What is the typical turnaround time for the digitization and access to my documents?
The time required to complete your document scanning project and provide access to your digital files depends on the nature of your documents, the volume of your order, and the specific scanning services you've requested. At Richmond Document Scanning, we are committed to ensuring the accurate scanning of all your crucial documents and timely delivery to you.
What Industries benefit from document scanning services?
Industries that benefit from and frequently require records management, business solutions for storage, and document scanning services often include:
Healthcare, medical offices, and allied fields
Banking, and financial services
Architecture and engineering firms
Creative industries–film, photography, publishing, etc.
Professional services like legal, marketing, and accounting
Social services
Insurance companies
Manufacturing
Transportation and logistics
Education
Retail
Automotive
Federal, state, and local governments